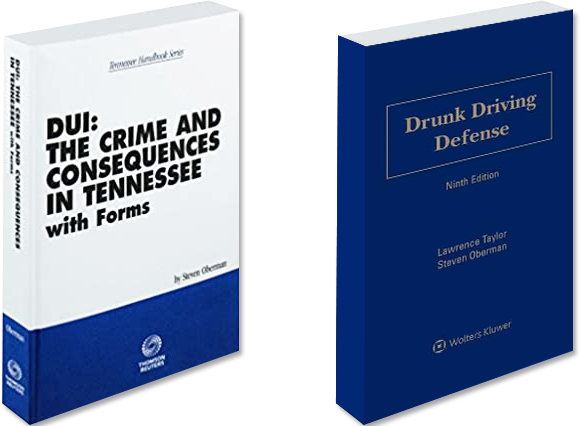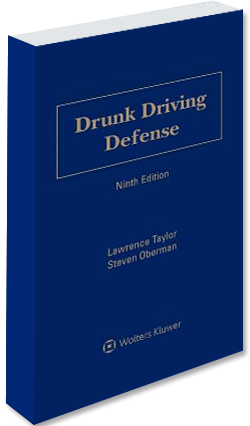 A text of over 1200 pages, Drunk Driving Defense provides a thorough analysis of both the law and the science relating to the crime of driving under the influence. This comprehensive work guides the practitioner through every step in the litigation of a DUI case-from thorough discussions of chemical and field sobriety tests to witness preparation and jury instruction.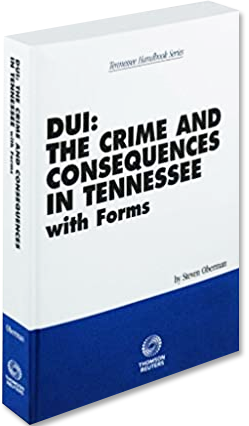 Discussing both the law and the science relating to the crime of driving under the influence in Tennessee, this work provides a clear, concise statement of current DUI law. A thorough discussion of field sobriety tests and chemical tests is provided — with the most commonly used field tests described in detail. This text analyzes both published and unpublished cases to address such issues as establishing probable cause for arrest and admissibility of test results. Legislative developments are covered as well, making this work not only an essential tool for the DUI practitioner, but also a time-saving guide to the intricate issues involved in Tennessee DUI law.
Table of Contents Summary
Table of Checklists
Table of Forms
CD-ROM Contents
Preface
Acknowledgments
PART I CRIME AND PUNISHMENT
Chapter 1. THE OFFENSE
1.01 The Nature of the Crime
1.02 The Corpus
1.03 What Constitutes ''Driving''?
1.04 Under the Influence of Alcohol
1.05 The ''Per Se'' Violation
1.06 Under the Influence of Drugs
1.07 Felony Drunk Driving
1.08 Civil Liability
1.09 Inchoate and Accomplice Liability
1.10 Affirmative Defenses
Chapter 2. THE SENTENCE
2.01 Sentencing in the DUI Case
2.02 Statutory Enhancements: Refusal, Speed, and Other Factors
2.03 Alternative Sentencing
2.04 Multiple Punishment
2.05 Probation Violation Hearings
Chapter 3. THE ADMINISTRATIVE LICENSE SUSPENSION
3.01 Implied Consent
3.02 The Administrative Hearing
3.03 The ''Per Se'' Suspension (.08 percent)
3.04 The Refusal Suspension
3.05 The FAA and Pilot License Suspensions
3.06 Interstate Driver's License Compact
Chapter 4. DUI AS A FEDERAL CRIME
4.01 Introduction
4.02 DUI on Land Administered by the National Park Service
4.03 DUI on Other Federally Owned Land
4.04 Issues Applicable to All Federal Lands
Chapter 5. FIELD EVIDENCE
5.01 Field Evidence and the Arresting Officer
5.02 Driving Symptoms
5.03 Appearance and Behavior of Defendant
5.04 Field Sobriety Tests
5.05 Advanced Roadside Impaired Driving Enforcement (ARIDE)
5.06 Drug (Recognition) Evaluation and Classification
5.07 Preliminary Breath Tests
5.08 Audio and Video Recordings
Chapter 6. INTRODUCTION TO BLOOD-ALCOHOL ANALYSIS
6.01 Forensic Alcohol Analysis
6.02 Alcohol and the Human Body
6.03 Retrograde Extrapolation: Projecting Test Levels Back to Time of Driving
6.04 General Sources of Error
Chapter 7. BREATH ANALYSIS
7.01 The Reliability of Breath-Alcohol Analysis
7.02 Nonspecific Analysis
7.03 Mouth Alcohol
7.04 Additional Sources of Error
7.05 The Machines
Chapter 8. BLOOD AND URINE ANALYSIS
8.01 Blood Analysis
8.02 Urinalysis
Chapter 9. INITIAL INVESTIGATION AND ARRAIGNMENT
9.01 Initial Client Contact
9.02 Case Investigation
9.03 Analysis of the Case
9.04 The Arraignment
9.05 Plea Bargaining Considerations
Chapter 10. PRIOR CONVICTIONS
10.01 The Prior DUI Conviction
10.02 Prosecutorial Burden
10.03 Bifurcation of Trial
Chapter 11. DISCOVERY
11.01 Discovery of DUI Evidence
11.02 Preservation and Production of Blood/Urine Sample
11.03 Preservation and Production of the Breath Sample: Trombetta
11.04 The Discovery Motion
11.05 The Subpoena Duces Tecum
Chapter 12. SUPPRESSION OF EVIDENCE
12.01 Probable Cause to Stop, Detain, and Arrest
12.02 The Fallibility of Radar Devices
12.03 Sobriety Checkpoints: Sitz
12.04 Unlawful Arrest
12.05 Incriminating Statements
12.06 Refusal Evidence
12.07 Field Evidence
12.08 Chemical Test Evidence
12.09 Other Evidence
12.10 The Suppression Motion
Chapter 13. SETTING THE STAGE
13.01 Jury Selection
13.02 The Opening Statement
13.03 Using Demonstrative Evidence
13.04 Keeping the Prosecution in Line
Chapter 14. CROSS EXAMINATION
14.01 The Arresting Officer
14.02 Techniques for Cross-Examination of the Officer
14.03 Cross-Examination of Arresting Officer
14.04 The Breath Operator and/or Blood-Alcohol Expert: Strategy and Techniques
14.05 Illustrative Cross-Examination of Operator/Expert
14.06 Illustrative Cross-Examination of the Percipient Witness
Chapter 15. THE DEFENSE
15.01 The Sobriety Witness
15.02 The Defense Blood-Alcohol Expert
15.03 The Defense Police Expert
15.04 Should the Defendant Testify?
Chapter 16. CLOSING
16.01 Summation: Strategy and Illustration
16.02 Jury Instructions
Resources
Table of Cases
Index
CHAPTER 1. CHARGING INSTRUMENTS
1:1 In general
1:2 Warrantless arrest requirements
1:3 Criminal citations
1:4 Affidavits of complaint for arrest warrants
1:5 Arrest warrants upon complaint
1:6 Technical defects in warrants
1:7 Criminal summons
1:8 Indictments
1:9 Alleging prior convictions in indictment
1:10 Joinder of offenses and defendants
1:11 Double jeopardy
1:12 —DUI and vehicular homicide
1:13 —DUI and vehicular assault
1:14 —DUI and reckless driving
1:15 —DUI and subsequent DUI offenses
1:16 —DUI and public drunkenness
1:17 —DUI and speeding
1:18 —DUI and license revocation
1:19 —DUI and vehicle forfeiture
1:20 —DUI and pretrial detention
1:21 —DUI and per se violations
1:22 Due process and speedy trial rights
1:23 Statute of limitations for DUI
CHAPTER 2. THE CRIME OF DRIVING UNDER THE INFLUENCE
2:1 In general
2:2 Driving, operating, or being in physical control of motor vehicle
2:3 Under the influence
2:4 Intoxicants
2:5 Automobiles and other modes of transportation
2:6 Location of offense
CHAPTER 3. THE DUI INVESTIGATORY STOP AND ARREST
3:1 In general
3:2 Legal standards necessary for valid stop of automobile
3:3 Stop based on information from informant
3:4 Seizure
3:5 Probable cause necessary for DUI arrest
3:6 Officer's presence required for warrantless arrest
3:7 Application of Miranda to the DUI investigation
3:8 Automobile searches following DUI arrest
CHAPTER 4. SOBRIETY CHECKPOINTS
4:1 In general
4:2 Sobriety checkpoints under federal law
4:3 Sobriety checkpoints under Tennessee law
4:4 Other types of checkpoints
4:5 Avoiding roadblocks
4:6 Subterfuge
CHAPTER 5. FIELD SOBRIETY TESTS
5:1 In general
5:2 Evolution of field sobriety tests
5:3 Phase one: Vehicle in motion
5:4 Phase two: Personal contact
5:5 Phase three: Pre-arrest screening (standardized field sobriety tests)
5:6 Horizontal gaze nystagmus test
5:7 Walk and turn test
5:8 One-leg stand test
5:9 Non-standardized field sobriety tests
5:10 Psycho-physiological considerations
5:11 Field sobriety tests as scientific tests
5:12 Application of Miranda warnings to field sobriety tests
5:13 Refusal of field sobriety tests
5:14 Video recorded field sobriety tests as evidence
5:15 Drug evaluation and classification
5:16 Drug category symptomology chart
5:17 Opinion testimony requirements
CHAPTER 6. CHEMICAL TESTS
6:1 In general
6:2 Principles of analysis
6:3 Analytical techniques
6:4 The relationship of breath alcohol content to blood alcohol content
6:5 Extrapolation of chemical tests
6:6 Procuring the blood sample
6:7 Preservation and destruction of test sample
6:8 Obtaining an independent sample of defendant's blood or urine
6:9 Admissibility of chemical tests—In general
6:10 —Breath test devices
6:11 —Breath test operator
6:12 —Confrontation issues
6:13 —Chain of custody
6:14 —Alternative means of introducing chemical test results
6:15 Relevant levels of intoxication
6:16 Transdermal monitoring devices
CHAPTER 7. IMPLIED CONSENT FOR CHEMICAL TESTING
7:1 In general
7:2 Requirements of officer
7:3 Reasonable grounds equal probable cause
7:4 The compelled chemical sample
7:5 Right to counsel
7:6 Application of Miranda to implied consent law
7:7 Evidentiary issues of implied consent law
7:8 Implied consent violation penalties
CHAPTER 8. PENALTIES AND SENTENCING
8:1 In general
I. PENALTIES
8:2 First offense penalties
8:3 Litter removal penalty
8:4 —Constitutionality
8:5 Second offense penalties
8:6 Third offense penalties
8:7 Fourth and subsequent offense (felony) penalties
8:8 Other issues relating to fines, fees, and court costs
8:9 Incarceration
8:10 Probation
8:11 Conditions of probation
8:12 Sentence credits
8:13 Work release
II. SENTENCING PROCEDURES
8:14 In general
8:15 Sentencing hearings
8:16 Sentencing factors
8:17 Appellate review of sentences
8:18 Blakely v. Washington
8:19 Proceedings before special judge in general sessions or juvenile court
III. DRIVING RESTRICTIONS
8:20 Prohibition against driving
8:21 Ignition interlock devices
8:22 Restricted license while DUI pending
8:23 Restricted license after DUI conviction
IV. MULTIPLE OFFENDER ISSUES
8:24 Multiple offender qualifications
8:25 Out-of-state offenses qualifying defendant as multiple offender
8:26 Procedural requirements for enhanced penalties
8:27 Prior judgment requirements for enhanced punishment
V. COLLATERAL CONSEQUENCES
8:28 In general
8:29 Civil liability of social host to drinking drivers
8:30 Firearm permit consequences
8:31 Immigration consequences
8:32 Insurance consequences
8:33 Travel consequences
CHAPTER 9. VEHICLE FORFEITURE
9:1 In general
9:2 Forfeiture as an excessive fine
9:3 Forfeiture for second or subsequent DUI offenses
9:4 Forfeiture for driving on a cancelled, suspended, or revoked license
9:5 Forfeiture procedure
CHAPTER 10. DRIVERS' LICENSES
10:1 In general
10:2 Authority to revoke or suspend a license
10:3 License revocation and suspension
10:4 Driving prohibition, license suspension and revocation relating to DUI
10:5 Restricted licenses for DUI offenders
10:6 Restoration of driving privileges
10:7 Commercial drivers' licenses
10:8 Financial responsibility requirements
10:9 Revocation due to nonpayment of litigation taxes, court costs & fines
CHAPTER 11. MOTOR VEHICLE HABITUAL OFFENDERS ACT
11:1 In general
11:2 The Act as a civil proceeding
11:3 Habitual offender qualifications
11:4 Computation of convictions
11:5 Habitual offender proceedings
11:6 Trial court findings
11:7 Appeals and constitutional challenges under the Act
11:8 Violations by declared habitual offenders
11:9 Termination of motor vehicle habitual offender status
CHAPTER 12. AIDING AND ABETTING DUI OFFENDERS
12:1 In general
12:2 Prohibitions and penalties
12:3 Passengers as aiders and abettors
12:4 Owners as aiders and abettors
CHAPTER 13. JUVENILE OFFENDERS
13:1 In general
13:2 Commencing proceedings
13:3 Judicial proceedings
13:4 Penalties and implied consent violations
13:5 Juvenile Offender Act
13:6 Juvenile Offender Act penalties
13:7 Restricted licenses for juveniles
13:8 Reinstatement of licenses for juveniles
13:9 Underage driving while impaired
CHAPTER 14. RELATED OFFENSES
14:1 In general
14:2 Boating under the influence
14:3 Child endangerment
14:4 Criminally negligent homicide
14:5 Drag racing
14:6 Driving on cancelled, suspended, or revoked license
14:7 Evading arrest or fleeing
14:8 Flying under the influence
14:9 Possession and consumption of alcohol while driving
14:10 Possession of handgun while under influence
14:11 Public intoxication
14:12 Reckless driving and reckless endangerment
14:13 Reckless homicide
14:14 Second degree murder
14:15 Vehicular assault
14:16 Vehicular homicide
14:17 —lesser included offenses
14:18 Vehicular homicide penalties
14:19 Vehicular homicide sentencing
14:20 Vehicular homicide—Aggravated
CHAPTER 15. DUI AS A FEDERAL CRIME
15:1 In general
I. DUI ON LAND ADMINISTERED BY NATIONAL PARK SERVICE
15:2 In general
15:3 Penalties
15:4 Implied consent violation
II. DUI ON OTHER FEDERALLY OWNED LAND
15:5 Assimilative Crimes Act
15:6 Implied consent violation
III. ISSUES APPLICABLE TO ALL FEDERAL LANDS
15:7 DUI procedure in federal court
15:8 Right to jury trial
CHAPTER 16. LITIGATING THE DUI CASE
16:1 In general
16:2 Preliminary hearings
16:3 General sessions court trial
16:4 Appeal from general sessions court to court of record
16:5 Constitutional concerns of guilty pleas
16:6 Certified questions for appeal
16:7 Trial in the court of record
16:8 Punishment if re-convicted
16:9 Probation revocation
CHAPTER 17. REPRESENTING THE ACCUSED
17:1 In general
17:2 Release pending trial
17:3 Initial interview of defendant
17:4 Investigation
17:5 Obtaining an expert witness
17:6 When accident involved
17:7 Concluding representation of defendant
CHAPTER 18. FORMS
18:1 Answer to petition to declare defendant an habitual motor vehicle offender
18:2 Appeal bond form
18:3 Authorization for use or disclosure of protected health information
18:4 Bonded court certification
18:5 Freedom of Information Act request form
18:6 Motion for disclosure of impeaching or exculpatory evidence
18:7 Motion for discovery
18:8 Motion for leave to file additional motions
18:9 Motion for relief from fine and court costs
18:10 Motion for state to provide court reporter
18:11 Motion to inspect breath test machine
18:12 Motion to preserve blood specimen for independent testing
18:13 Motion to sever trial of defendant charged with DUI by consent
18:14 Motion to suppress and/or dismiss due to illegal stop
18:15 Motion to dismiss or suppress blood alcohol test results for failing to preserve evidence
18:16 [Reserved]
18:17 Order appealing general sessions court judgment
18:18 Order for restricted drivers license
18:19 Order requiring installation of SCRAM device
18:20 Order revoking operating privileges
18:21 Order to show cause
18:22 Petition to declare defendant an habitual motor vehicle offender
18:23 Petition to restore driving privileges
18:24 Protective order for medical records subpoena
18:25 Release for disclosure of confidential health information
18:26 Standardized field sobriety tests scoring sheet and decision table
18:27 Uniform affidavit of indigency
18:28 Waiver of jury assessment of fine
18:29 Work release order
APPENDICES
APPENDIX A. Summary of DUI Penalties
APPENDIX B. Law Enforcement Forms and General Orders
APPENDIX C. Tennessee Code Annotated (Selected Provisions)
APPENDIX D. Tennessee Rules of Criminal Procedure
APPENDIX E. Tennessee Rules of Evidence
Table of Laws and Rules Table of Cases
Index
Contact
Office
Oberman & Rice
550 Main Street
Suite 730
Knoxville, TN 37902
Phone Number
(865) 249-7200
(865) 540-1696 (fax)
GPS Coordinates
Long: 35.970504
Lat: -83.914776
Useful Links
contact us today for a free consultation
We reply to non-urgent after-hours requests for consultation within 24 hours. For after-hour emergencies, please call us at (865) 249-7200.
Fields marked with an
*

are required