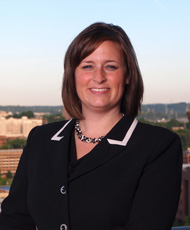 Sara Compher-Rice, a named partner in the firm, limits her representation to those charged with Tennessee criminal offenses, with a special emphasis on driving under the influence (DUI) and other alcohol, drug and driving related cases. Sara began practicing with Steve Oberman in 2002, following her graduation from the University of Tennessee College of Law.
Sara serves on the Board of Directors for the Tennessee Association of Criminal Defense Lawyers (TACDL). She is also a member of the National College for DUI Defense and the National Association of Criminal Defense Lawyers, where she serves on the DUI Committee. In 2011, she was appointed by the Tennessee Supreme Court to serve as a Tennessee Board of Professional Responsibility Hearing Committee Member.
Sara has lectured to both local and national audiences on the topics of DUI defense, ethics, and courtroom technology and has authored multiple articles relating to DUI Defense. Sara has been named a Super Lawyers Mid-South Rising Star since 2010. Sara is one of only two Knoxville, TN lawyers selected for inclusion in the 2013 edition of The Best Lawyers in America® in the practice area of DUI Defense (with managing partner, Steve Oberman, named as the second).
More information about Sara can be found by clicking here or you may click here to view her resume.
Sara's Commitment to Her Clients
"I am proud to be part of a criminal defense law firm whose mission is to provide top tier service to our clients. I am fortunate to work with lawyers and staff who possess great integrity, ability and work ethic. I am humbled to have been recognized for my accomplishments as a Tennessee criminal defense attorney by Super Lawyers (as a Rising Star in the Mid-South Region) and Best Lawyers in a America (as 1 of 2 lawyers recognized in Knoxville in the area of DUI Defense). I believe that hard work, dedication and prompt and thorough communication are key to providing an effective defense to the criminally accused and strive each day to make these goals a cornerstone of my criminal defense practice."
—Sara Compher-Rice, May 2013
Contact
Office
Oberman & Rice
550 Main Street
Suite 730
Knoxville, TN 37902
Phone Number
(865) 249-7200
(865) 540-1696 (fax)
GPS Coordinates
Long: 35.970504
Lat: -83.914776
Useful Links
contact us today for a free consultation
We reply to non-urgent after-hours requests for consultation within 24 hours. For after-hour emergencies, please call us at (865) 249-7200.
Fields marked with an
*

are required