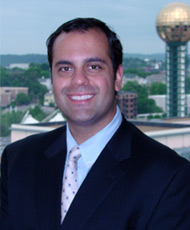 Arrin "A.Z." Zadeh grew up in McMinnville, TN (Warren County), the son of a civil engineer (his father) and school administrator (his mother). Growing up in a household that paid strict attention to details prepared A.Z. to do well at The University of Tennessee, from which he graduated in 2004 with a major in Political Science.
With this background, A.Z. received an academic scholarship from the Appalachian School of Law, located in Southwest Virginia. In law school, A.Z. was recognized for his advocacy skills, winning an award for the best oral argument.  He received his Doctor of Jurisprudence (attorney's degree) in 2007.
After graduating from law school, A.Z. chose to combine his acquired skills in the courtroom with his passion for criminal defense. He spent a brief period of time in private practice before accepting a position as an Assistant Public Defender in Knox County, Tennessee. As an Assistant Public Defender, A.Z. worked in each of the four criminal divisions of Sessions Court and all three divisions of Criminal Court in the county. During this stint, A.Z. represented clients charged with everything from Misdemeanors like Public Intoxication to Felonies such as Theft, Assault, and various drug offenses.
In his last three years of service as an Assistant Public Defender, A.Z. was assigned to the "DUI Division" where he successfully defended hundreds of clients charged with Driving Under the Influence and other related offenses. A.Z.'s success in that capacity was a major reason the partners of Oberman & Rice invited him to join their team.
At Oberman & Rice A.Z. continues to focus his practice on those accused of Driving Under the Influence (DUI) as well as other driving, alcohol, and drug-related crimes. He also continues to defend those accused of other criminal offenses in Tennessee. He is proud to share the firm's focus on providing exceptional service to its clients through legal, legislative, and scientific research.  In the spring of 2017, A.Z. was asked by Steve and Sara to become partner at the Oberman & Rice Law Firm.   A.Z. was very humbled by the offer and graciously accepted.
A.Z. is a member of the American Bar Association, Knoxville Bar Association, and National College of D.U.I. Defense (where A.Z. is the State Delegate for Tennessee). A.Z. also served on the Executive Board of CASA (Court Appointed Special Advocates) for Children – an organization aimed at giving neglected children in Knox County a voice in court and helping their families develop parenting plans to form a stronger and healthier family bond.
Contact
Office
Oberman & Rice
550 Main Street
Suite 730
Knoxville, TN 37902
Phone Number
(865) 249-7200
(865) 540-1696 (fax)
GPS Coordinates
Long: 35.970504
Lat: -83.914776
Useful Links
contact us today for a free consultation
We reply to non-urgent after-hours requests for consultation within 24 hours. For after-hour emergencies, please call us at (865) 249-7200.
Fields marked with an
*

are required