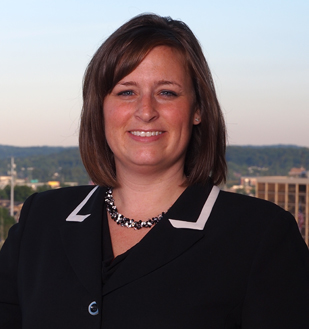 Sara Compher-Rice is a named Partner with the Oberman & Rice Law Firm. Sara began practicing with Steve Oberman in 2002 and has been defending those charged with crimes in Tennessee since that time. Licensed in all Tennessee courts, Sara focuses her practice on those accused of criminal offenses, including Driving Under the Influence (DUI) and other alcohol, drug and/or driving-related cases.
Sara was named a Mid-South Super Lawyers Rising Star from 2011-2020 and has been named a Mid-South Super Lawyer every year since. She has also been named a Best Lawyer in the area of DUI Defense each edition of The Best Lawyers in America® since 2012. In 2021, Best Lawyers named Ms. Compher-Rice "Lawyer of the Year" in the area of DUI Defense in Knoxville, Tennessee. Her greatest honor, however, was her election to the Board of Directors for the Tennessee Association of Criminal Defense Lawyers ("TACDL"), culminating with her service as President of this organization in 2016-17. Sara continues to stay involved with TACDL as a Past President.
Sara received her B.A. from Denison University in 1999 with a major in Political Science and a minor in English Literature. She attended the University of Tennessee College of Law, where she received her Doctor of Jurisprudence, Magna Cum Laude (high honors), in 2002. Graduating in the top ten percent of her class, Sara was elected to the Order of the Coif, the highest academic honor a law student can achieve.
Since she was first licensed in 2002, Sara has maintained a commitment to promoting legal ethics. This commitment began in law school with her involvement in the Legal Ethics Fraternity, Phi Delta Phi, and continues today. In 2011 Sara was appointed by the Tennessee Supreme Court to serve as a Hearing Committee Member for the Tennessee Board of Professional Responsibility. Sara proudly served two consecutive terms for the Board.
Sara has lectured to both local and national audiences on a variety of criminal defense topics, including DUI Defense, Ethics, Courtroom Technology, Case Investigation, and Criminal Law Updates. She has also authored multiple articles relating to DUI Defense.
Sara recognizes the importance of staying on the cutting edge of the latest legal, legislative and scientific developments in the law. As a Criminal Defense lawyer in Tennessee, she spends many hours at national Criminal Law and DUI symposiums each year and also assists Mr. Oberman in the extensive research and writing of his books, DUI: The Crimes and Consequences in Tennessee and Drunk Driving Defense. In 2003, 2004 and 2006 she also received a certificate of completion from the National College for DUI Defense, Inc. Summer Session held at Harvard University.
Sara is also committed to serving her community through volunteerism. She has been appointed by the international legal ethics fraternity, Phi Delta Phi, to serve as Province President of Province 14, working with law school students across Tennessee, Kentucky and southwestern Virginia. Closer to home, she currently devotes her time to organizations that support Knox County students, most recently serving as the PTSO President for West Valley Middle School from 2020-2022. Sara also enjoys supporting the Bearden High School Band High Boosters and the Tennessee Interscholastic Cycling League.
Contact
Office
Oberman & Rice
550 Main Street
Suite 730
Knoxville, TN 37902
Phone Number
(865) 249-7200
(865) 540-1696 (fax)
GPS Coordinates
Long: 35.970504
Lat: -83.914776
Useful Links
contact us today for a free consultation
We reply to non-urgent after-hours requests for consultation within 24 hours. For after-hour emergencies, please call us at (865) 249-7200.
Fields marked with an
*

are required