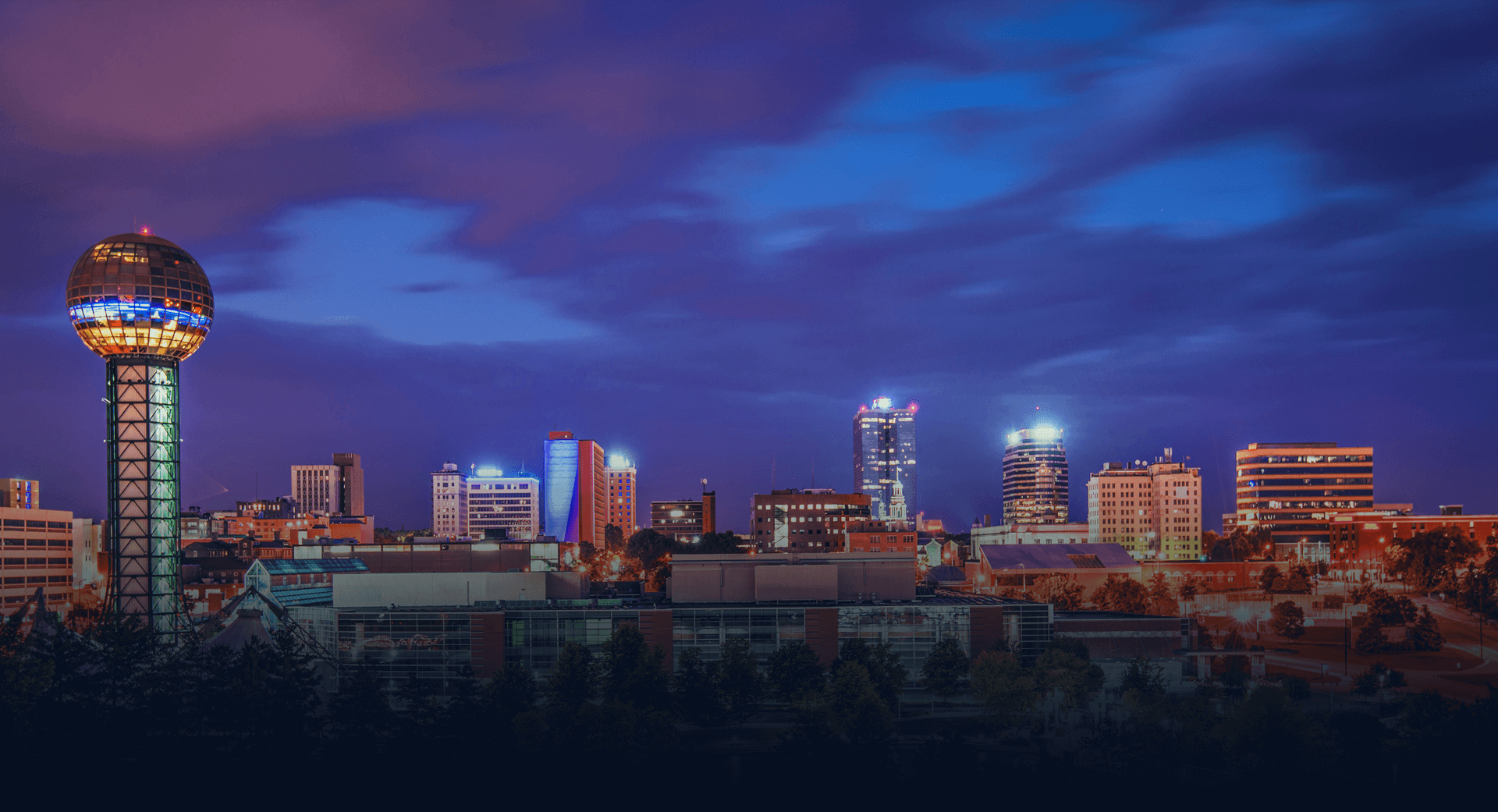 Your Future Is Our Present Concern®
We trademarked this phrase because we mean it.
Free consultation
Your Future Is Our Present Concern®
The vision for every lawyer in this firm is to provide clients with the very best client service and representation. We want clients to develop a long-lasting, trusting relationship with us.
We are proud to have built our reputation on hard work, not by buying billboards. As evidenced from the many volunteer educational presentations our lawyers make to the general public, defense lawyers, judges and even prosecutors, we are committed to servicing the people of our communities and the legal profession across the United States.
While lawyers are rightfully prohibited from promising results, Oberman & Rice does promise you that we will be easy to contact, readily available to discuss your case with you in person, and be not only prepared, but over-prepared to litigate your case. Unlike most law firms, all our lawyers confer regularly at a scheduled meeting to brainstorm about each case. In this manner, we are more likely to ensure nothing is overlooked and to develop innovative defenses.
The best results are obtained by working hard – not by chance. We are honored to be recognized by so many organizations as extraordinary lawyers and will continue our hard work and volunteer service as long as the firm exists.
The mission of our law firm is to zealously represent our clients, providing a thorough DUI defense while maintaining the highest standards of professional responsibility and ethics. Of equal importance, our Knoxville DUI attorneys and staff strive to provide exceptional service to our clients and pride ourselves on prompt and thorough communication with our clients.
Due in part to the work ethic and dedication of The Oberman & Rice law firm to our clients, Martindale-Hubbell™, the renowned organization which has offered attorney peer reviews for more than a century, has bestowed the firm with the highest rating for law firms. We are also proud that our Knoxville DUI lawyers continue to be honored with many awards from numerous other organizations.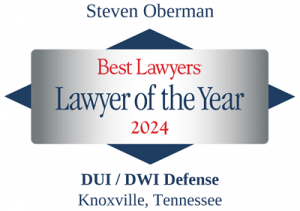 As part of our commitment to providing the best possible DUI defense for our clients, Oberman & Rice endeavors to remain on the cutting edge of DUI defense techniques and strategies by attending and teaching at the most advanced DUI seminars in the country. Our firm also hosts a podcast, which highlights many issues surrounding Tennessee DUI cases, as well as the offense of driving under the influence in general. Please click here for more information about our DUI Law Podcast.
Unlike lawyers who use mass mailings to lists of people recently arrested, we limit the number of cases we accept to ensure we devote the necessary time and effort to provide each of our clients the personal attention they deserve. Our Knoxville DUI attorneys provide you detailed information about your Tennessee DUI charges, the associated Tennessee DUI penalties, as well as the court procedures. The Knoxville DUI attorneys of The Oberman & Rice Law Firm are readily available to answer your questions and concerns both while your Tennessee DUI case is pending and after your case is concluded.
awards and recognition
We are very proud to have been recognized by so many different premier organizations for our efforts and results. Candidly, though, we are never satisfied with our past successes. We are always expending the extra effort to fine-tune our defenses for the next client. Nonetheless, it is important to many potential clients to know that we are so well respected by other lawyers and past clients who have seen our work in court.
Our Knoxville, Tennessee DUI Defense Lawyers' Qualifications
Knoxville, Tennessee DUI Lawyer Steve Oberman is the co-author of the national DUI treatise, Drunk Driving Defense, and author of DUI: The Crimes and Consequences in Tennessee, both of which are pictured below. He also regularly lectures to DUI attorneys across the country about criminal defense techniques. In particular, he teaches and writes about defending cases involving drunk driving, also known as DUI, DWI, and driving under the influence of alcohol, drugs or other intoxicants.
Tennessee DUI Attorney Steve Oberman regularly defends citizens accused of these crimes whether or not they consent to a blood or breath test. He is familiar with several breath testing devices, including the Intoxilyzer 5000 and DataMaster. In particular, Steve has closely studied and lectured about the Intoximeter EC/IR I and Intoximeter EC/IR II, both of which have been approved by the State of Tennessee for evidentiary breath testing. He also teaches DUI lawyers and attorneys about the errors inherent in both blood and breath testing techniques used by the Tennessee Bureau of Investigation, the Knox County Sheriff's Department, the Knoxville Police Department, as well as other police agencies in the State of Tennessee.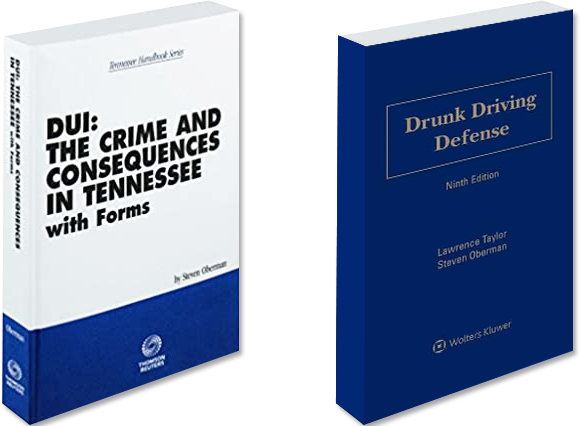 What Our Clients Say
Eternally Grateful
11:11 18 Aug 21
If I could give six stars to Attorney Steve Oberman, it would still be insufficient to commend him for the brilliant job he did with my very difficult case. From beginning to end, at a very stressful time, he kept me informed and educated as to all possible contingencies, all while calming my fears and uncertainties (of which there were many). I am in awe of his incredible knowledge and expertise, and so appreciative of his professionalism and completely non-judgmental approach. I know he spent many, many hours on my case, and the end result was nothing short of miraculous in my book. I owe a debt of gratitude to Steve Oberman. In my opinion, he is the only attorney to call for anyone who finds themselves in the unfortunate need for representation in a DUI case.
John
13:30 08 Aug 21
When searching on-line for representation, I located Steve Oberman. What caught my attention and set him aside from all the others was his depth of knowledge, years of experience, numerous accolades, and his passion to teach law in various schools. I called Steve's office on a Sunday and left a message. Shortly after Steve called me back, we set up a meeting and he began to work. What I first noticed about Steve was his attention to the details with every question he asked and document he reviewed. Steve navigated through the legal system in a polished manner and made the journey though the case efficiently and extremely effective as the case was ultimately dismissed.
MS
13:27 07 Jul 21
Mr. Oberman and his team are fantastic. Very responsive and thorough. I made a mistake that could have ruined my life and destroyed my family. Steve and his team ensured that did not happen and got a favorable result under difficult circumstances. I would strongly recommend Mr. Oberman and his wonderful team.
Featured Posts
Please visit our blog to learn more about recent news, changes in the law, and interesting issues relating to criminal laws including DUI laws driver's license reinstatement.
Contact
Office
Oberman & Rice
550 Main Street
Suite 730
Knoxville, TN 37902
Phone Number
(865) 249-7200
(865) 540-1696 (fax)
GPS Coordinates
Long: 35.970504
Lat: -83.914776
Useful Links
contact us today for a free consultation
We reply to non-urgent after-hours requests for consultation within 24 hours. For after-hour emergencies, please call us at (865) 249-7200.
Fields marked with an
*

are required